[ad_1]

Baked French Toast is a deliciously warm and comforting breakfast casserole with just the perfect amount of sweetness. It feeds a crowd, can be prepped ahead, and takes just minutes to throw together.
Why We Love This Baked French Toast
Baked French Toast is our answer whenever we want a breakfast that feels special.. but also don't have all morning to be slaving over the stove. (And let's be honest.. how often do we really want to be doing that??). My whole family loves this comforting casserole. And I love that it is so easy to throw together! It can be assembled the night before, which is really handy for busy mornings. But usually I end up tossing the whole thing together in the morning. Either way, it is delicious. The edges come out browned and crispy, while the inside bakes up soft and tender. And the crumble topping is simply divine!! This is one recipe you will find yourself making time and time again.
Ingredients for Baked French Toast:
Bread- we used a 1 pound loaf of sourdough bread.
Eggs- this recipe calls for large eggs.
Milk- we used 2% milk, but really any milk will do here. A higher fat content will give you a richer flavor.
Brown Sugar- adds a rich, caramely flavor.
Vanilla Extract & Cinnamon- adds a warm, yummy flavor.
Flour- all purpose works best here.
Butter- we used salted butter.
Bananas- we love the addition of fresh fruit, and bananas are delicious! But you could top it with any fruit you like. Or, leave it out completely!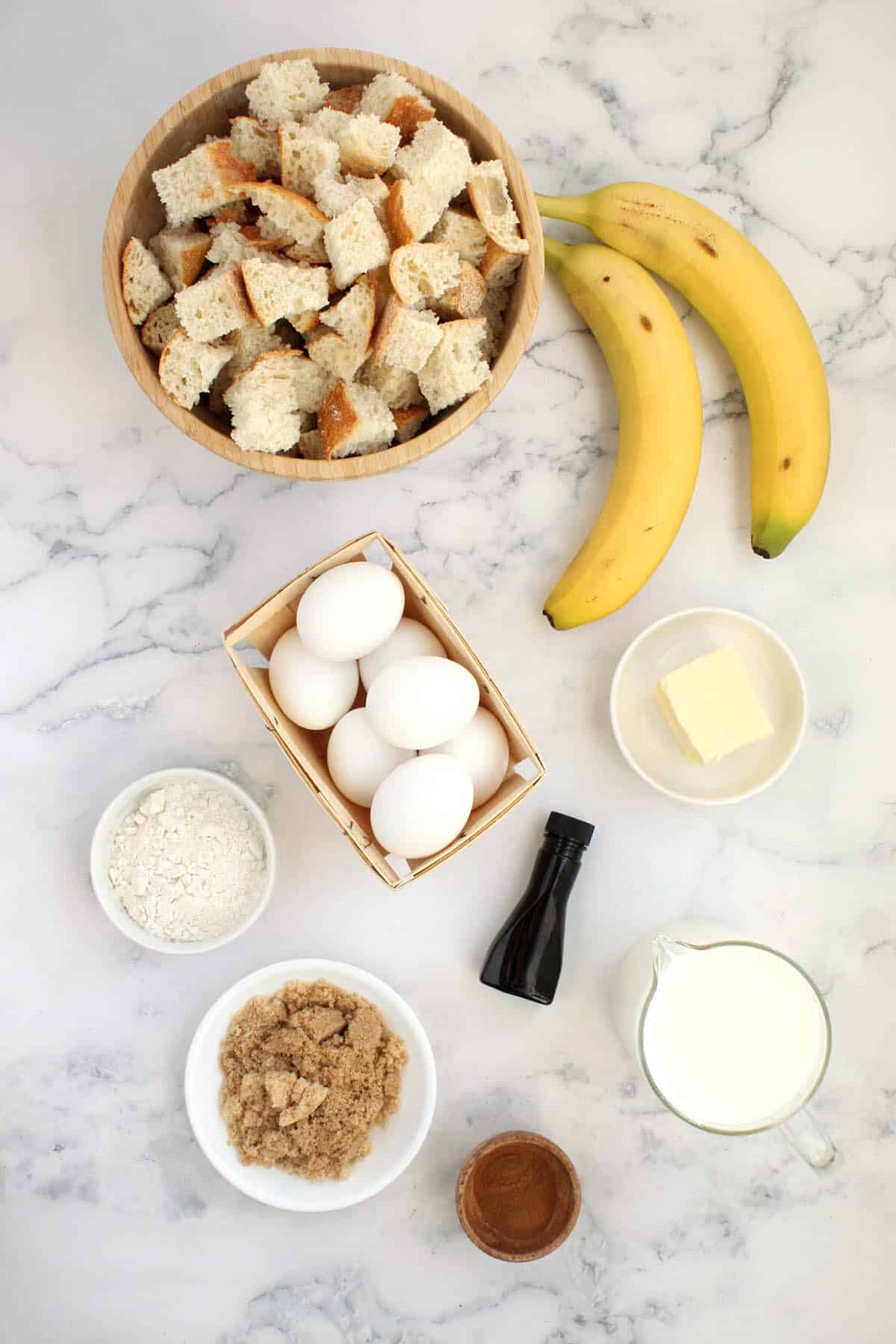 How to Make Baked French Toast
Cube the bread and place in a large bowl.
Whisk together the eggs, milk, brown sugar, vanilla and cinnamon.
Add the wet mixture to the bread and stir to combine.
Pour everything into a greased 9×13-inch pan.
Combine the flour, brown sugar, cinnamon and butter in a small bowl until the mixture looks like coarse crumbs.
Sprinkle the crumb topping over the casserole.
Bake in a 350 degree oven for 35-40 minutes or until lightly browned and the custard mixture is cooked through.
Top with sliced bananas and serve!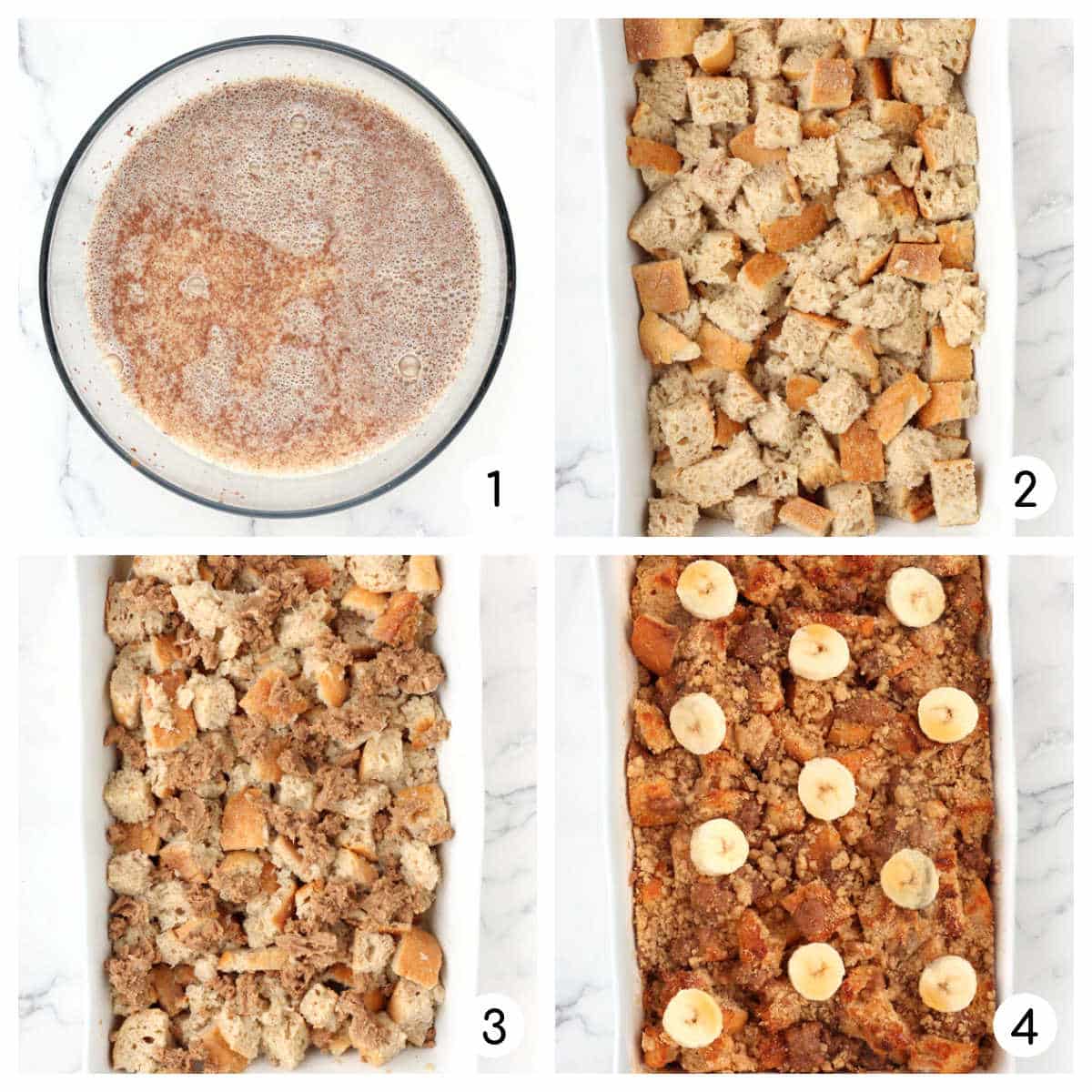 Best Type of Bread for Baked French Toast
These are the 3 important factors when deciding which bread to choose:
You want the ability to cube or slice the bread, so unsliced bread is best.
Baked French toasts requires that the bread soaks in an egg and milk mixture to create the custardy final product. If the bread is thinly sliced or too soft, it won't have a good texture in the end. Choose a hearty, sturdy bread.
A lot of the flavor comes from the seasoning or mix-ins you use, but the bread should taste good too! It is the main component of the dish.
Favorite Bread Types for French Toast
Brioche – a richer version of sandwich bread. It is a sturdy bread which allows it to hold its shape after soaking up the egg mixture, and cooks into a finished dish with a crisped outside and a soft, creamy inside.
Challah – This is an eggy bread that is somewhat similar to Brioche.  It can soak up custard without collapsing and browns nicely on the outside but leaves you with the creamy insides you want with French Toast.
French Bread – This is a firm-crusted bread and has no problem soaking up custard and staying sturdy. Unlike brioche or challah, a baguette makes a French toast that is more chewy.  Let it soak extra long in the egg and milk mixture to make sure it's thoroughly softened.
Sourdough – One of our personal favorites! It is a chewy bread that adds great texture, and the sourdough flavor balances nicely with the sweetness of the casserole.
More French Toast Recipes To Try:
Preheat oven to 350 degrees and grease a 9×13 inch pan.

Cut the bread into 1 inch cubes and place in a large bowl.

In a separate bowl, whisk together the eggs, milk, brown sugar, vanilla, cinnamon and salt. Pour over your bread cubes and gently toss to coat. Spread the mixture evenly into the prepared baking dish.

For the crumb topping, add the flour, brown sugar and cinnamon to a small bowl. Stir to combine, then cut in butter using a fork or your fingers until the mixture resembles coarse crumbs. Sprinkle over the casserole.

Bake for 30-40 minutes or until lightly browned and cooked through.

Serve warm with fresh banana slices and maple syrup!
Calories: 259kcal | Carbohydrates: 36g | Protein: 10g | Fat: 8g | Saturated Fat: 4g | Polyunsaturated Fat: 1g | Monounsaturated Fat: 2g | Trans Fat: 0.2g | Cholesterol: 120mg | Sodium: 319mg | Potassium: 252mg | Fiber: 2g | Sugar: 16g | Vitamin A: 374IU | Vitamin C: 2mg | Calcium: 133mg | Iron: 2mg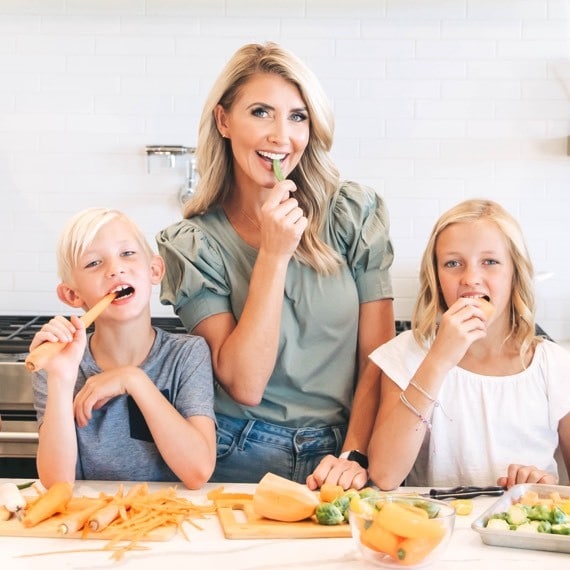 Natalie Monson
I'm a registered dietitian, mom of 4, avid lover of food and strong promoter of healthy habits. Here you will find lots of delicious recipes full of fruits and veggies, tips for getting your kids to eat better and become intuitive eaters and lots of resources for feeding your family.
[ad_2]

Source link